With Super Bowl Sunday just around the corner, I wanted to share my go-to game day snack with you. To me, Super Bowl Sunday is all about the food. Seriously, I watch very, very little football. Though this year I did actually watch more football than usual, and actually watched several Giants games. I promise that I'm not a Giants fan though. I'm also not a Patriots fan. I'm a food-you-eat-while-watching-football fan and that is it! Sadly, I won't be watching the Super Bowl at all this year as I accidentally booked a flight right in the middle of the game. Happily, that flight means that I will be in NYC this weekend visiting some of my favorite people!
Okay, so back to the dip. It is heaven. It is happiness. You will be the hit of the party if you bring this. And you won't miss the heavy refried beans that you usually find in similar dips. Trust me, even after substituting black beans for the usual refried bean layer, this dip was still a huge hit with my taste testers.
For more Super Bowl Snacks:
Cooking Light Spinach and Artichoke Dip
Baked Buffalo Wings
Or click the link below to see more Super Bowl Snacks over at Eat Yourself Skinny!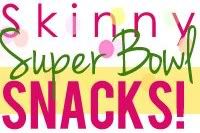 Seven Layer Dip
1 can black beans, drained slightly
2 tablespoons olive oil
1 chipotle pepper, plus a bit of adobo sauce
3 very ripe avocados
1 jalapeno, minced
1/2 lime, juiced
1 teaspoon lemon juice
Salt and pepper
4 tablespoons light sour cream
1 tablespoon light mayonaise
1/2 packet low-sodium taco seasoning
1 cup cheddar cheese (you could also mix in some Monterey Jack)
3 roma tomatoes, diced
2 green onions, sliced
Blitz together black beans, olive oil, and chipotle pepper in a food processor until it reaches your desired consistency. Mine was closer to smooth than chunky. Spread the black bean mixture in the bottom of a pie pan or 8x8 inch glass dish.
Mash avocados in a separate bowl. Stir in jalapeno, lime and lemon juice, and season to taste with salt and pepper. Try not to eat all of this guacamole before you assemble the dip! Spread the guacamole over the black bean mixture with a spatula.
Stir together sour cream, mayo, and taco seasoning until well combined. Spread this over the guacamole.
Sprinkle the cheese onto the dip next, then spread the tomatoes evenly across the cheese, and finish with green onions.